Building the program of Hack Coworking Online together with the participants, we realized how important it was to find a balance between the different types of talks we would be hosting. Thus, after discussing the impact of COVID-19 on the coworking industry through data, interior and users, it is now time for some "concrete" stories.
COVID-19 being a global phenomenon, it impacted coworking spaces all over the world. For the next panel, which we called COVID-19 stories, we invited 3 amazing coworking founders to share their stories and show the before/after COVID to our audience, so everyone can visually see the impact it had on their space and on their community.
We had the pleasure to welcome to the stage Tania Santos, co-founder of CRU Cowork in Porto, Carrie Douglass, co-founder of The Haven in Bend, Oregon (USA) and Rachel Keyser, Founder of Coworker Hub in Middlebury, Connecticut (USA). Together, we spoke about their step-by-step adaptation through the pandemic and their vision for the future.
Watch their talk below and/or keep scrolling down for the summary of our conversation!
Virtual tours around CRU Cowork, The Haven and Coworker Hub
We opened up the panel with a round of introductions where Rachel, Tania, and Carrie all shared their background stories and what brought them into coworking. From a healthcare consultant to a psychologist and a politician, it was interesting for the audience to realize how much coworking has no "typical" story in its inception. They are rather a personal journey that leads to a collaborative one.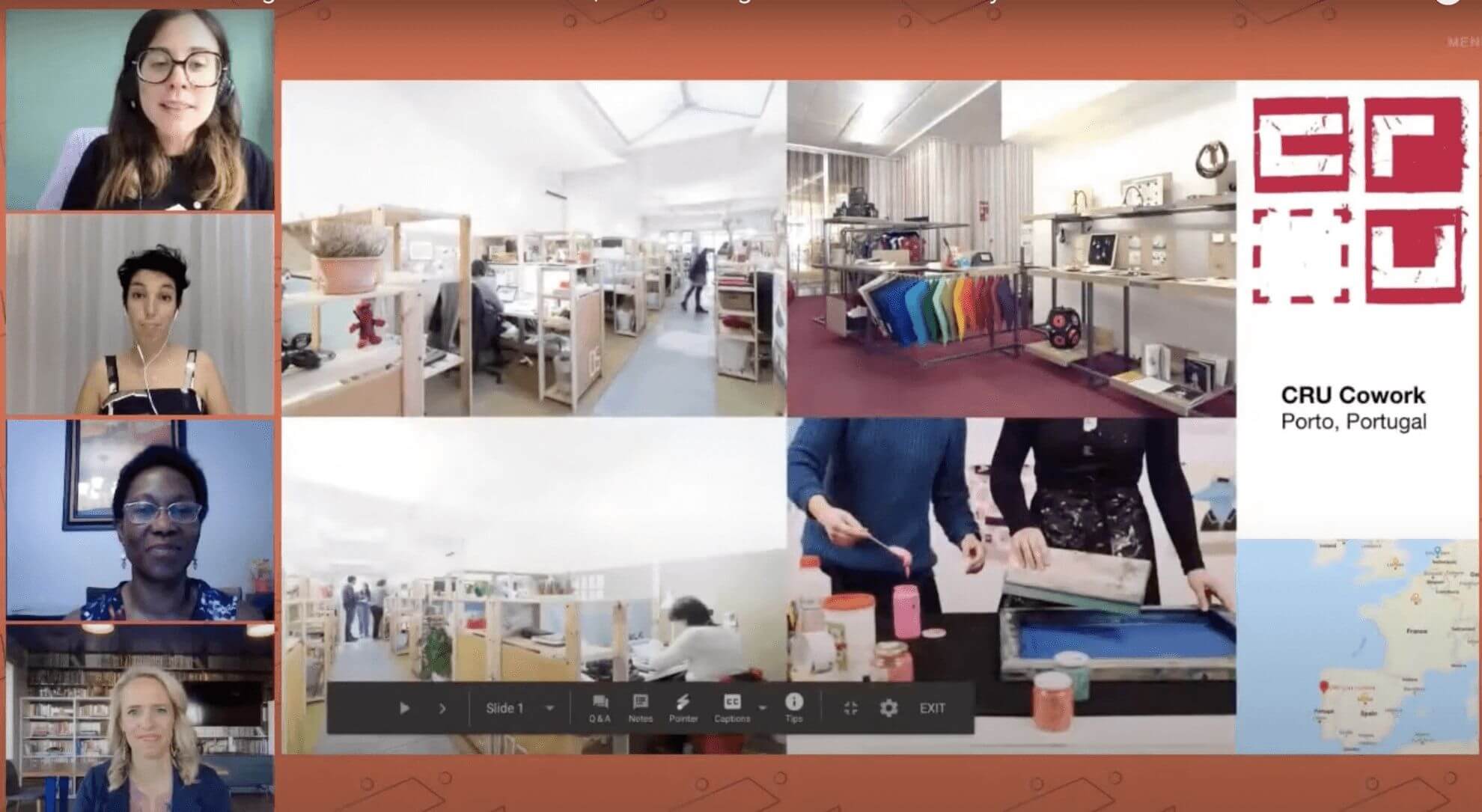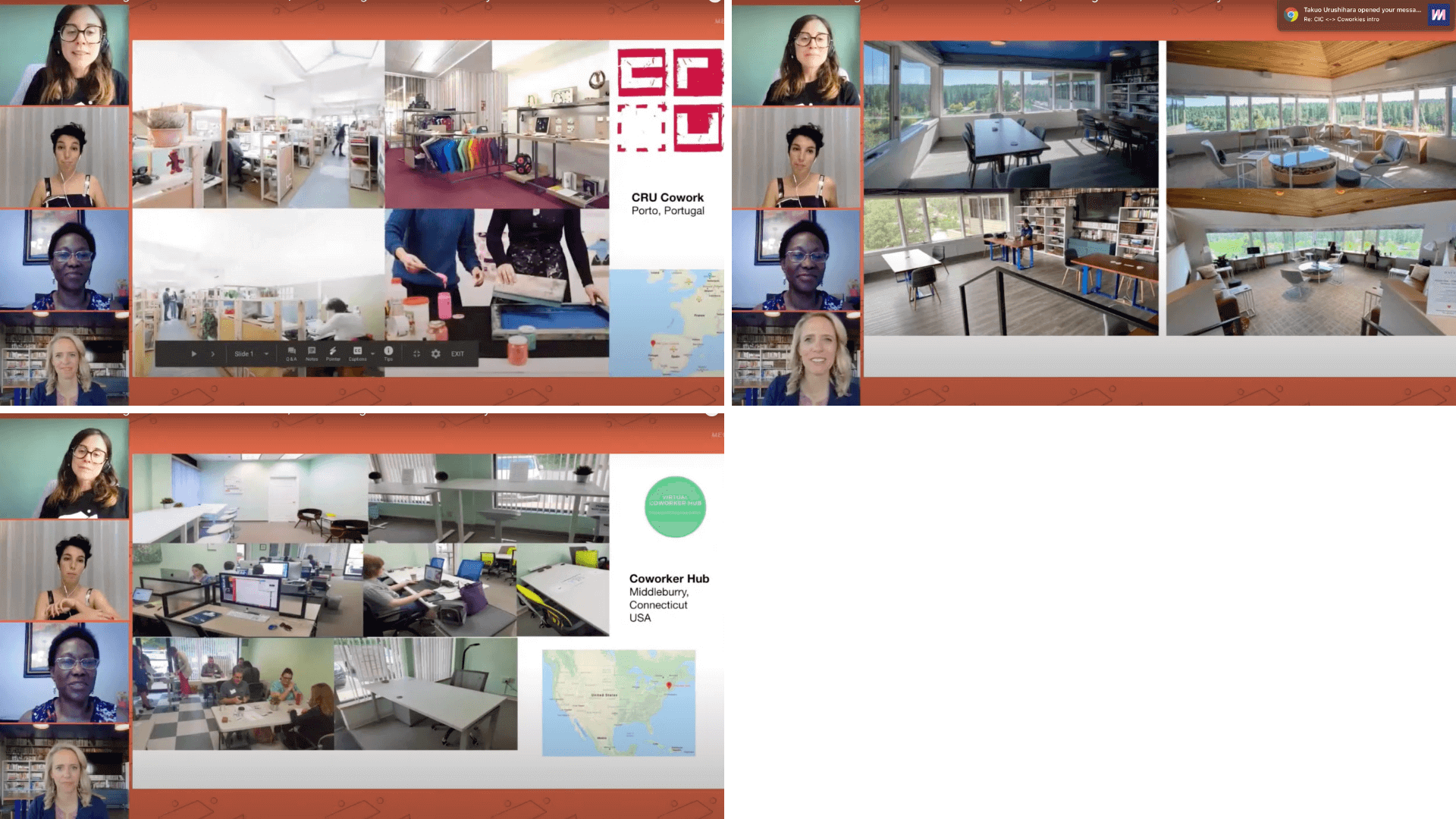 Being online does not allow for the audience to actually see their spaces. Tania, Carrie, and Rachel took us on a "virtual tour" that started in CRU Cowork, a former garage transformed into a 3-in-1 type of coworking space, combining a shop, an art gallery, and a coworking space.
Carrie then took us to The Haven, a beautiful coworking space in a ski-town called Bend, also well-known in America to be one of the cities where most of the people work from home. Located alongside the river, The Haven focuses on flexible memberships. Designed in a way that feels like home, members have the opportunity to work from various environments throughout the day, from the quiet library to "the refuge" a room that feels like a cozy living room.
Finally, Rachel showed us Coworker Hub, highlighting the before and after COVID-19. Something Rachel pointed out is that being located in a second-tier city, her space acts as an educator to what coworking is all about. Although Coworker Hub does not have a specific focus, Rachel noticed that due to the hospital located in the city next door, a few of her members renting private offices come from the healthcare sector. Rachel went on to explain how they remodeled the space due to COVID-19, spreading tables, "removing" and numbering seats to ensure physical distancing is respected.
Shutting down… or not? That is the question
The conversation moved on to the time the world had to enter lockdown, discussing whether or not their spaces had to shut down. For Tania, located in Porto, Portugal, she admitted that "coworking is still a grey area for the Portuguese government", meaning that all the guidelines created by the government were either targeted at offices of large companies or big commercial spaces (like shops and restaurants). Struggling to find where they fit exactly, Tania decided to follow her good-sense and decided, although not obliged by the local government, to shut down the space for two months, simply because they believed it was safer for their members to stay at home and not take any risks by going out.
Asked about the US and the guidelines they had to follow, Carrie and Rachel both laughed. Carrie pointed out that everything being so political in the United States, everything COVID-19 related was rather a state-by-state, even county-by-county type of story. Generalizing to simplify things, Carrie said "if you were based in a Democrat state, things were rather strict, whereas if you were based in a Republican state, things were more open". For Carrie, the decision of closing or not was a hard one to take. Having essential workers as part of her community, Carrie decided to remain open, to ensure they can access good internet connection whenever they need it. Although the space remained open, Carrie admitted that very few people used it, even when the Governor lifted the stay-at-home order.
"I am concerned about the short-term/long-term on coworking spaces. We expected to see more people when the governor lifted the stay-at-home order, but because of child care, even if people want to leave their home, they can't" - Carrie Douglass, Co-founder of The Haven.
For Rachel, the story was slightly different. Being located on the East coast of the United States, which was a hotspot for COVID-19 and her state being an extension of New York City, the number of cases there were rising fast and high. When the outbreak happened, members started not coming in as much. Rachel took the decision to remain partially open, mostly because some of her members are healthcare workers (like Therapists) and used Coworker Hub for reliable internet and quiet space they could not necessarily have at home.
Making it through the lockdown
The conversation transitioned to the lockdown period, focusing on how each of them kept on supporting them members without the physical space.
For Tania and CRU Cowork, as their store (one of the 3 sections of her space where they usually sell the creations of her community) had to shut down. Representing more than 50 makers with their store, Tania said they adapted in what she called a "fast-and-furious" way. Wanting to avoid her members to not be able to sell, she replicated her physical shop… online! How? With the support of a local organization called FUNDAMENTO, managed by Lisa Lang and her team, they created, at the speed of light (aka one week), a beautiful online store referencing the 50 brands of the CRU Cowork community.
For her space, Tania created a program called Coworking at Home, which is a digital membership allowing members to access all the content and programming created by CRU Cowork online, like their daily lunch, a community's favorite that Tania kept and transformed to work digitally. She also helped her members navigate through the funding opportunities that became available from the Portuguese government, so anyone can apply and get the financial support they needed.
Rachel admitted that for her, it all started with taking a deep breath. She created a repository online, listing all the useful resources for her community and avoiding, in this way, for her members to check the anxiogenic news all the time. In March, Rachel launched online meditation sessions for her community in order to help everyone cope with the situation. Coworker Hub also used its voice to support businesses outside of their own community. For instance, to support local restaurants that were forced to shut down, Rachel took pictures of them and shared them in their community, asking them to support by ordering home-delivery, etc. Lastly, she added virtual memberships to her existing ones, to support professionals seeking a community to mingle with while locked down.
At The Haven, adapting to the lockdown meant to let members use the space when they needed. For instance, anyone part of the community could come in, take the paddleboards available in the space, and go for a ride on the river nearby. They also did a few activities online, like coffee-chats or pitches. But the main thing The Haven actually did is adapting their policies to the current times. They Created "Partner privileges" - a membership parents can share between each other. The Haven removed all reservation fees to make it easier for people to spread out and also removed cancellation fees so people can book rooms without fear of canceling. Lastly, Carrie and her team introduced a "pay-what-you-can' membership model. Having inclusivity at heart, it was important for The Haven to ensure that as people face difficult financial times, this would not mean that they are left out of the community. The model is available on their website here. The way it works is simple: anyone can pick their current situation all the way from "my cup is overflowing, I can pay a little bit more" to "my cup is empty and I can't pay anything". Launching this program was not easy but in the end, they came out even, with people who could pay more balancing for people who could not.
Adapting your marketing message to the new realities.
At CRU Cowork, it has all been about pro-action and not reaction. Seeing the lockdown coming their way in Porto, Tania decided to join forces with other coworking operators from the city to support each other and discuss what each of them is doing to adapt. All of them having different spaces and different communities, they were able to support each other and inspire each other a lot. Together, they created a guideline consisting of 8 main key measures for their communities, that they beautifully designed, with the help of a talented local illustrator. The guidelines highlighted safety and health measures everyone should follow to prevent the virus from spreading.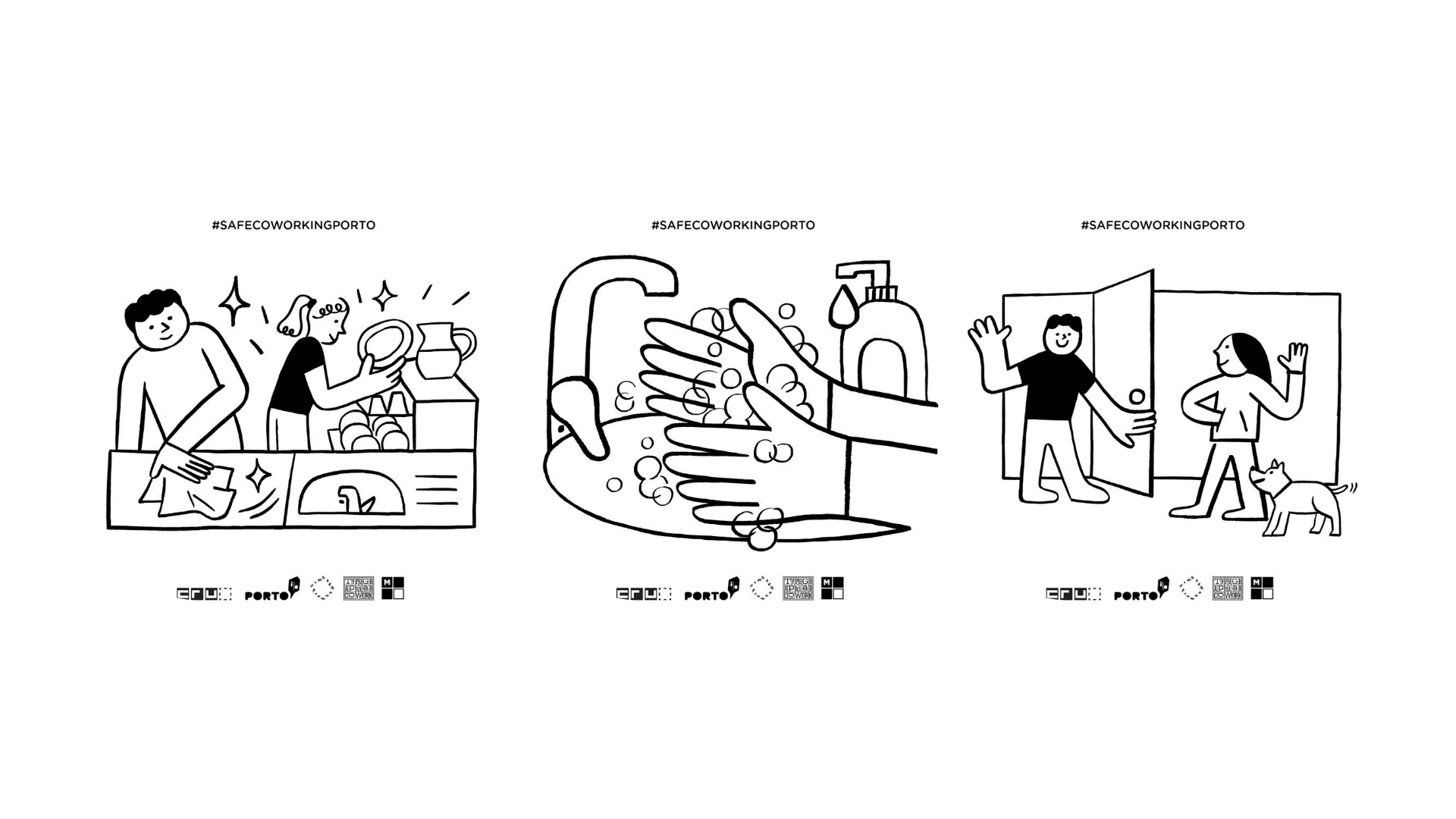 Illustrations by Joana Estrela
At The Haven, Carrie felt, at the time of our talk, that they were still "navigating the marketing waters" to find the best ways to bring people back to the space. With each and every member having different opinions on what would make them return (wearing a mask indoors or not for instance) finding the right balance is not that easy.
Lastly, at Coworker Hub, the story turned out different. As Rachel was supposed to do the grand opening of her second space, if COVID-19 didn't happen, she decided to do it anyway but… online! Since reopening, and as all the members are not yet back to Coworker Hub, Rachel decided to keep her online activities going, checking in every day with members, giving them a free space to talk and express how they feel. She also created and gave her members baskets of safety products with gloves, hand sanitizer, and detergent to extra-clean their desks if they want to, on top of the daily cleaning the cleaning staff is already doing and just to make them feel safe. Members can also purchase masks in the space, in case they forget theirs or wish to wear one and don't have any.
---